Free Web Site Traffic

- Totally free
- Highly targeted
- Prime location
- Post ads separately for additional visibility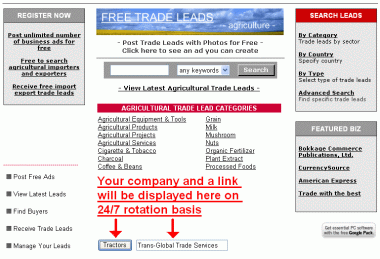 Step 1
Choose a link from the options below.
Insert the HTML code into your Web page
(This link must be clearly visible on your site - your Home page is preferred)
Please make sure the URL of your site where you placed the link is entered in "URL of the link placed" box in Step 2:
Banners
Option 1

Option 2

Option 3

Text Links
Option 1
Join JETC Global Business Community
Option 2

Free International Buyer Leads
Find international buyers and send inquiries at no charge.

Option 3

Post Unlimited Number of FREE B2B Ads
Post unlimited number of free B2B ads, receive free trade leads, search buyer leads and send inquiries online, and create and manage your prospect list.